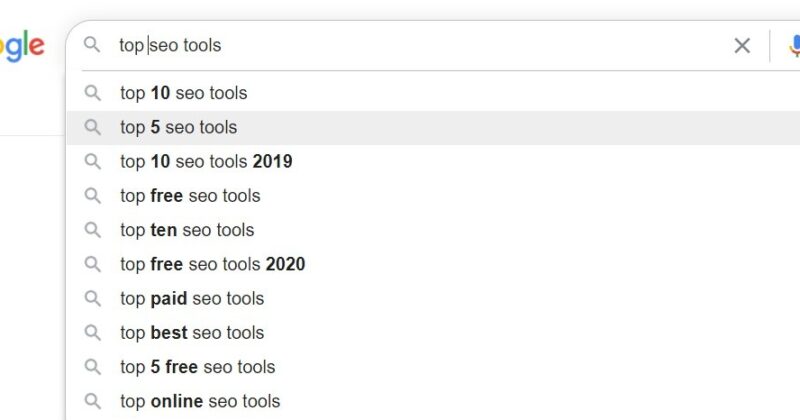 SEO tools, there is an ever-growing list of different tools made specifically to help with SEO tasks and activities.
From linkbuilding to on-page SEO content recommendations, today you can find a tool for every task in modern SEO.
Some are free while others are pretty expensive, a lot of them have a hybrid model offering free accounts with premium features and addons.
Here is a short list of my top 5 SEO tools that I work with every day.
No surprise there, Google is the biggest search engine on the internet and accounts for a whopping 87% of the global search market.
No wonder why it has even become a verb, and you can now Google the recipe for the best chocolate cookies.

Find more statistics at Statista
For that reason, the free webmaster tool, Google Search Console has some of the most valuable information out there and right from the source.
Inside this tool, you will find indexing information from your website, reports about rankings in the SERPs (Search Engine Result Pages) by location, sitemap related information, core vital signals from your website like pagespeed insights and it is also a communication channel with Google's team to request URL removals or troubleshoot penalties and manual actions.
A complete suite of tools specifically designed to help with digital marketing tasks, from SEO keyword planning and position tracking to content marketing planning, SEM Rush has a variety of useful tools to help boost productivity and gain competitive insights.
SEM Rush includes a SERP tracker, site health checker, traffic analytics tool, backlink checker, ad analysis, backlink toxicity checker, social media poster, and many more tools.
Another great free tool from Google, the analytics platform shows traffic data to better understand your site and app users, and better evaluate the performance of your marketing efforts and the content on your site.
Dive deeper into data that show how users interact and consume the content of your site, recognize which content resonates more with your audience, and keep track of valuable user actions on your site to understand better how to improve the performance of your site or app.
In my opinion, one of the most useful tools out there. Screaming Frog is a web crawler that extracts valuable information and displays it organized in different reports.
Screaming frog offers a free and a paid version of the software. I really recommend getting it and getting to know the features and the kind of data it retrieves from websites.
You can then export the different reports as xls or csv documents and import them in your spreadsheet tool of choice to continue with the analysis.
Very useful for:
Finding broken links
Audit Redirects
Analyze Titles, Meta Data and important elements for on-page SEO
Discover Duplicate Content
Review Robots and Directives
Generate XML Sitemaps
Another free tool from Google, part of the Google Ads platform, this tool is great for keyword research and planning. It provides more accurate data if you have an active ads campaign, but you can get a free Google Ads account to access the tool even if you do not run ads campaigns for your web property.
Find and identify the best keywords used in the queries made in the Google search engine about your brand, products, or services.
Get the search volume for your main keywords, get new related keyword ideas, and dive deeper into the variations and different construction of the keywords used in queries related to your products or services.